Section #../../firmware2/doc/README.md
README
Project Goal
The Chipflasher's firmware kick is going to be reviewed and rewritten in Spin/PASM language: kick2
While maintaining the menu interface for the project's own connect utility, the integration of an interface for the external flashrom utility will be set up in parallel.
Code Review
The firmware review process is done by transforming the original firmware written in C, into Spin code. Spin code is loaded into controller's RAM, and then interpreted by one cog who is running the on-chip Spin Interpreter. As a result, the controller's RAM is used in an efficient way, but execution speed is slow. In order to speed up important loops, parts of the Spin code will be replaced by PASM code later on, which is then executed by additional cogs fromout their faster cog-RAM. As a proof of concept, this has been done for Spin objects txline_HEXD and txline_SREC. In the end, the overall execution speed will hopefully reach that of the fast PASM code compiled from C sources.
Coding in Spin/PASM gives us some main benefits:
frugal software requirements
high source code readability
efficient RAM usage, space for advanced features
objects with hidden data, public and private methods
high execution speed where essential
lean documentation output
flexibility through replacable Spin/PASM objects
Hardware Requirements
Requirements are frugal:
Chipflasher

Device board-edition-1 (PCB board-v1.1.0), RYF-certified
or Device with upgraded PCB
or Device with handmade circuit board

PC or Laptop

two USB slots for power
one RS232 serial port, /dev/ttyS0 or alike, for data
recommended: free/libre operating system
recommended: free/libre firmware like libreboot or coreboot
Paths
All paths within this document are relative in respect to the original location of this source file, which is located in the project's firmware2/doc/ folder, e.g.: ../../firmware2/doc/
Prerequisites
This is additional software and documentation.
It is assumed, that you have started with the project's main README file ../../doc/README.md to learn how to set up requirements and how to generate the project's root documentation ../../doc/index.html. Your current directory is ../../doc/.
Now change into this project's second documentation folder ../../firmware2/doc/:
    cd ../firmware2/doc/

P8X32A Documents and Application Notes
The Propeller Chip is well documented, let's take a bunch of documents as a common starting point. See ../../firmware2/doc/Makefile for targets P1-Documents and P1-Application-Notes. They will help us to get files downloaded, e.g.:
    make -C ../../firmware2/doc P1-Documents

Interfaces
Interfacing the Connect Utility
This project comes with its own PC utility called connect, which is supported via the menu Spin/PASM object: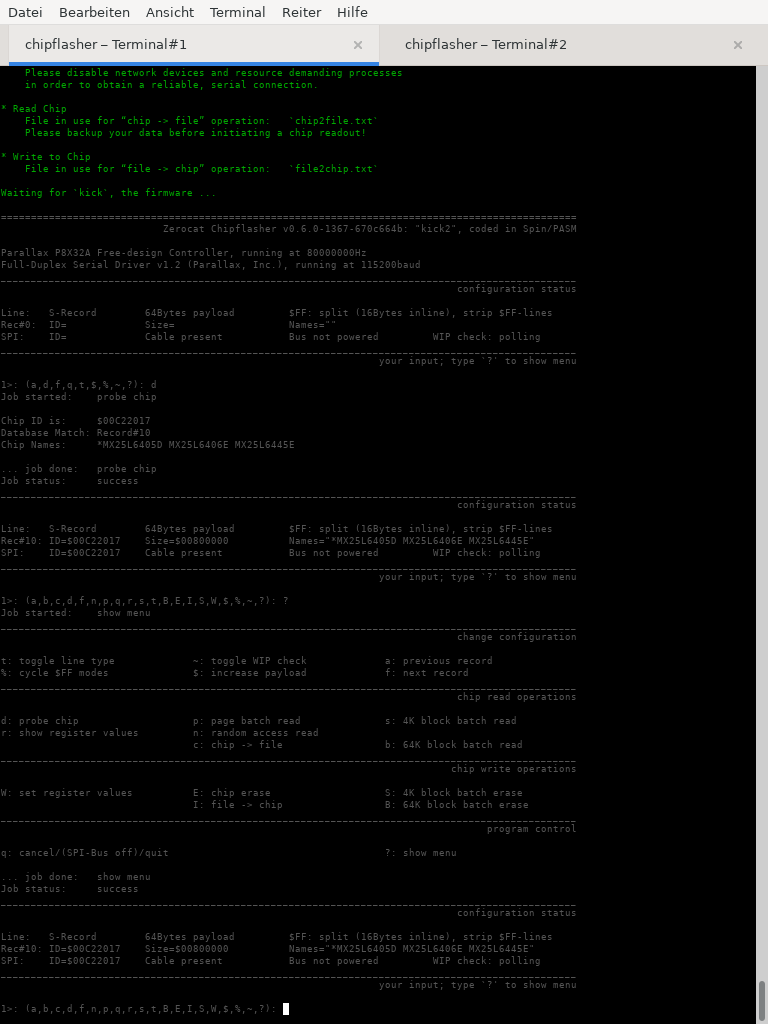 Interface to `connect`, coded in Spin/PASM
Interfacing the Flashrom Utility
The flashrom utility comes with its own protocol specification, made for external flasher devices attached to the serial port of your computer. See Documentation/serprog-protocol.txt within the flashrom source tree. This protocol is/will be supported via the serprog Spin/PASM object. Once the serprog object is more elaborated, we will switch the default interface.
Interfacing a Terminal
In case flashrom or connect are not available, you might still start a propeller terminal and use it with a terminal on the host side. However, features are heavily stripped, you cannot do something real. Again, use the menu Spin/PASM object.
Interface Configuration
The kick2 top object might be configured to run one of the following interfaces:
Connect (Default)
Flashrom
Propeller Terminal
No Interface
The configuration will not only affect the compiled output, but the generated documentation as well.
Instead of editing the source by hand, better run make, e.g.:
    make -C ../../firmware2/src config-connect

You can get an overview of targets with:
    make -C ../../firmware2/src help

Code
To build the firmware, type:
    make -C ../../firmware2/src

You can get an overview of targets with:
    make -C ../../firmware2/src help

You might want to adjust macro settings in ../../firmware2/src/kick2.spin and ../../firmware2/src/pccom.spin before running make.
Code Upload
To load the firmware onto the Controller Board, see options of ../../firmware2/start/Makefile:
    make -C ../../firmware2/start help

It might be a good idea to upload into Free-design RAM:
    make -C ../../firmware2/start loadram

Operate the Device
To operate the device, see options of ../../firmware2/start/Makefile:
    make -C ../../firmware2/start help

The Makefile promotes usage of the interface to the connect utility and offers a bunch of targets, e.g.:
    make -C ../../firmware2/start start

Testing the interface to flashrom can be done with target flashrom-probe, which has been added as a proof of concept: Synchronization, initialization and probing (fake data) do work fine:
    make -C ../../firmware2/start flashrom-probe

Finally, the interface to the Propeller Terminal can get uploaded and started:
    make -C ../../firmware2/start terminal